My name is David Ross. 
I am a guitar repairman and I sell my own line of guitar effects pedals from Binghamton, New York. I founded my business in the fall of 2021 because my passion and experience led me here. I believe that I will be useful to musicians who need their guitars professionally repaired, as well as those who are looking for new and exciting sounds to enhance their musical journey. If you've ever asked yourself "What is the best guitar repair shop near me?", I hope to answer that question for you with results. 
I began playing guitar in 2004 and was fortunate that my father Eric Ross is a professional music teacher and avant-garde jazz musician. I learned to play on his 1972 Gibson SG Deluxe before getting a Behringer Stratocaster copy of my own as my first guitar. I quickly bonded with that guitar when I realized that I could play music that I was personally interested in, and it has turned into a lifelong pursuit. Eventually I started playing a B.C. Rich Warlock guitar, before moving onto a 2005 Gibson Les Paul Standard. It was around 2008 when my interests changed from just playing the guitar, to building and repairing them. Since that time, I've been committed to the craft and have spent countless hours researching, meeting other professionals in the industry, and doing practical guitar building and repairing in my home studio. I am comfortable and confident with repairing electric guitars, acoustic guitars and bass guitars. I am also familiar with all the major guitar brands such as Fender, Gibson, Epiphone, Guild, Martin, Taylor, PRS, G&L, Rickenbacker, Gretsch, ESP, Ibanez, etc…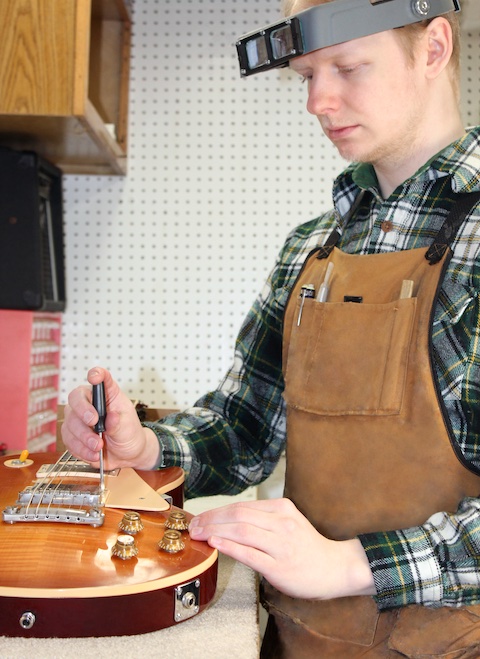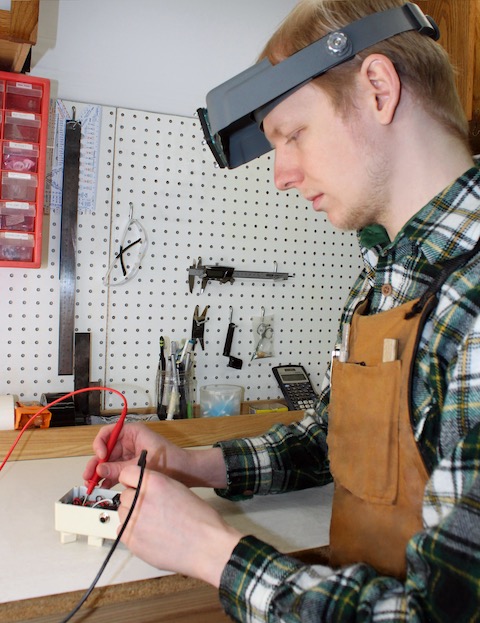 My interests in the field expanded over time to include guitar effects pedals. My father owned several vintage pieces (Ibanez TS9 Tube Screamer, Dunlop Cry Baby, MXR Blue Box) and I was intrigued by the different sounds they created. I was already well into building and repairing guitars at this point in 2016 and it seemed like a natural progression to further understand guitar effects pedals. I had a working knowledge of guitar pickups and guitar electronics from prior experiences in guitar repair and also from studying wiring diagrams on the Seymour Duncan website. I found these experiences to be very helpful in the venture I was about to embark on. After becoming familiar with the fundamentals of electronics, I reached the point where I was building simple circuits like the Fuzz Face, Electro-Harmonix LPB-1 and Dallas Rangemaster Treble Booster. I eventually began on designing own original circuits which eventually led to me creating my own products.
My focus is on making audio effects that look and sound familiar but are not retreads of other guitar pedals in the marketplace. I'm proud to be offering the Winter Storm guitar pedal and the Spellbook guitar pedal on my Shop page. The Winter Storm guitar pedal is great for tone shaping because it adds as much or as little coloration to your guitar tone as you desire. It can be used as a clean boost, a light overdrive, a medium gain distortion, or anywhere in between. The Spellbook guitar pedal is a self-oscillating fuzz and distortion pedal that can also be used as a standalone synthesizer. I'm planning on creating more guitar pedals in the future and am excited to release new products!
In summary, the purpose of my business is to provide expert level guitar repairs locally with reasonable and competitive prices, and to provide unique looking and sounding guitar pedals for people who are serious about music. I play guitar everyday and enjoy it now more than ever, which I know my customers can relate to. If you're someone who shares a passion for guitar as I do, feel free to reach out through the Contact page. Also, if you're interested in learning more about me and my background, you can follow this link from my time as a guest on the 40 Watt Podcast, or check out my appearance on the Man The Helm podcast. In each interview, I go in depth on my history with guitars, and my thoughts on a variety of guitar related topics. Thank you!
-David